no
Spa in Tel Aviv

The Beach House Spa is all about the perfect escape from the daily routine and a pampering getaway by the beach. Whether you're on a business trip or a romantic weekend, combining the selected Spa treatment with a day at the beach or dinner in some of the best resturants in the area, will surely seal the deal. The spa specializes in single or couples treatments and includes quiet treatment rooms, a rest area with infusions and refreshments and an intimate garden with lounging corners and an outdoor Jacuzzi bath. You can order a romantic day package for two or package that includes hotel accommodation, couples therapy and other luxuries. For the full list of treatments click here.
For more details and to book a treatment:
03-7605000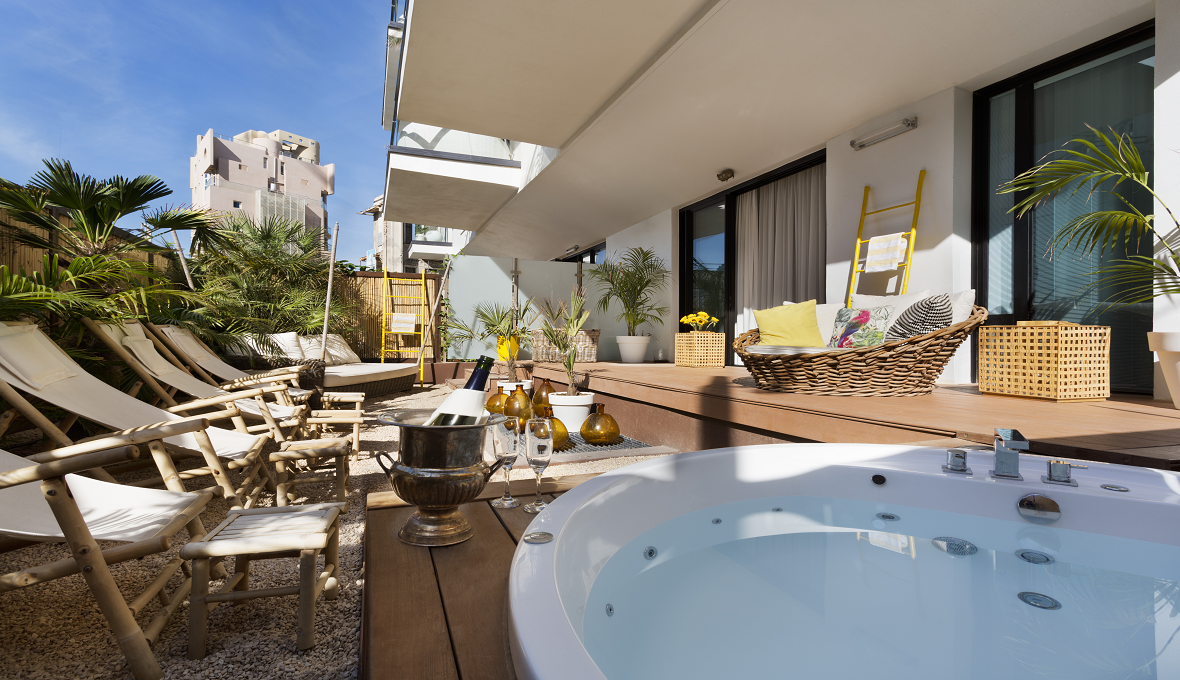 Romantic Package


Looking for a different romantic experience? Celebrating a special day in a relationship or just looking to get pampered? We invite you to discover the Spa at the Tel Aviv Beach Boutique Hotel with an introductory packages for romantic couples.
 

The Package includes: 
 
A 50 minutes couples massage treatment
2 glasses of Cava
Free access to the hotel's facilities
A lavish breakfast can be added to the package
 

Introductory rates:
 
Without Breakfast: 490 NIS
With Breakfast: 590 NIS
* The package is valid from Sun-Thurs. An addiotional 50NIS per person on Weekends.
For details and to book a treatment:
03-7605000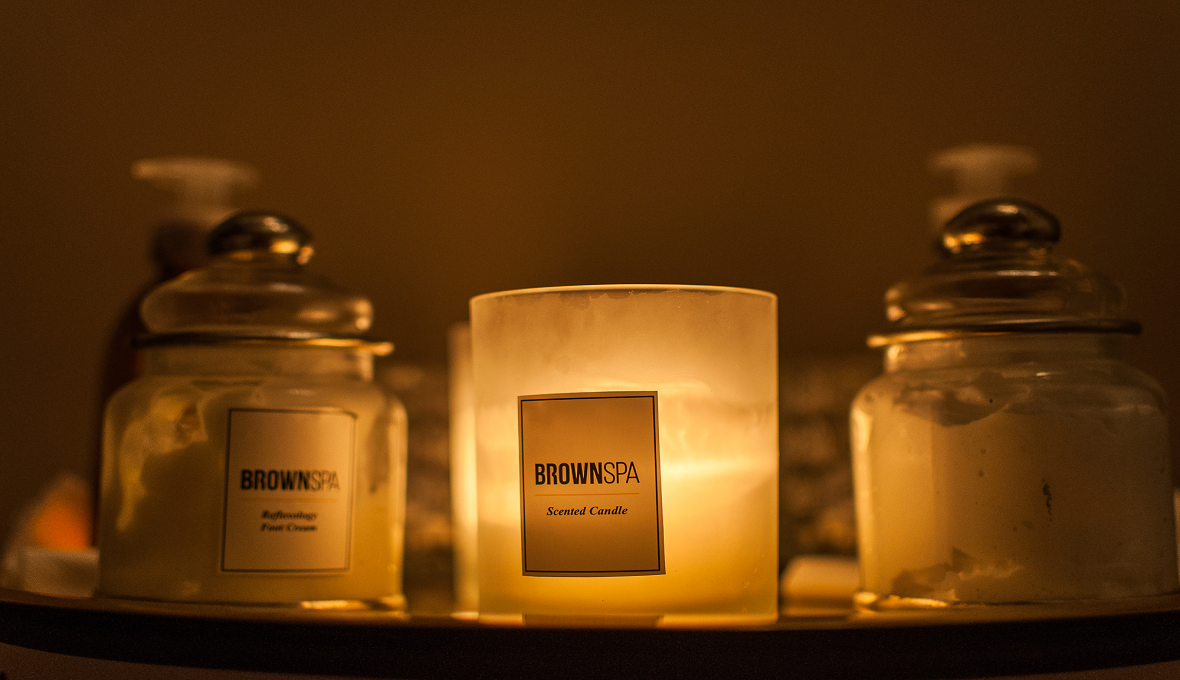 BROWN HOTELS
5% Off for 
Booking Online
5% discount when booking online! Valid in all Brown Hotels, the discount is included in all rates published on our online booking engines. For a complete list of our current discounts and to make a room reservation:
150e06
Brown Hotels
Spring Promotion
17.02.2019-31.03.2019
Whether you are traveling for business or leisure, this upcoming spring we invite you to enjoy from an exclusive discount of 15% off for your stay.
0D5257
562b22
150e06
Poli House 
Extra Value
05.03.2019-31.03.2019
Don't miss this extra value offer with an exclusive 20% discount for your stay, plus enjoy a complimentary cocktail and chill out at our Crudo Bar. 
ed366c
Brown Beach House
Luxury Stay
01.03.2019-31.03.2019
Spoil yourself and book one of our luxury rooms or suites, offering you an exclusive 20% discount for your stay, plus a free pick up service from the airport!*
  *Pick up service will be offered to bookings of minimum three nights. Please contact our front-desk team with your flight details at- 
beach@brownhotels.com
. 
ffb911
BROWN HOTELS
EARLY BIRD
PROMOTION
Book your room 45 days in advance and enjoy an exclusive discount of 12% on our official rates!
150e06
Lighthouse Tel Aviv
Exclusive Purim Party
21.03.2019
A Purim feast with a multi-genre musical lineup by leading local DJs, costumes are mandatory! 
0D5257
Lighthouse Tel Aviv
Purim Masquerade Ball
20.03.2019
Get ready to dress elegantly, put masks on, and to dance and drink the night away at the Lighthouse Hotel. An exclusive private party that requires advance tickets, hosted by Ari Leon Fruchter and Kenny Braun.
0D5257
Lighthouse Tel Aviv
Skylight Party Line
Saturdays from 18:00
 
The special winter edition of famous SKYLINE weekly straight friendly party line. Mingling at the gorgeous terrace of the new Lighthouse Hotel with chillout music, great alcohol and the best breeze this side of the Middle East! 
0D5257
Poli House Tel Aviv
Monopoli
Party Line
Poli House's monthly party line hosted by Xhibition. International crowd and changing DJs. 
ed366c
Brown Hotels
Private
Events
Let us host your next special event at one of our indoor and outdoor locations in Tel Aviv and Jerusalem.
150e06
Brown Hotels
Brown's
Bars
Visit one of our bars in Tel Aviv and Jerusalem for an evening drink or delicious snack before hitting the city's nighlife scene. Our bars regularly host private parties and small gatherings in a stylish atmosphere.
150e06
Villa Brown Jerusalem
Tea Garden
Flavors
Daily
Enjoy an indulgent brunch or a festive High Tea ceremony at the Villa's Tea Garden, open daily for house and outside guests.
782d50
Brown Hotels
Extra Benefits
All Brown Hotels offer complimentary services such as free Wi-Fi throughout the hotels, complimentary bicycles, free entrance to a professional GYM*, free entrance to a leading local museum* and more. 
* Not available Dave and in Jerusalem
150e06
Lobby 65 Bar at Brown Beach House Boutique Hotel Tel Aviv

Brown Beach House Boutique Hotel - Terrace Room

Lobby 65 Bar at Brown Beach House Boutique Hotel Tel Aviv

Studio Room at Brown Beach House Boutique Hotel Tel Aviv

Lobby 65 Bar at Brown Beach House Boutique Hotel Tel Aviv

Breakfast at Brown Beach House Boutique Hotel Tel Aviv

Lobby 65 Bar at Brown Beach House Boutique Hotel Tel Aviv

Celebratory Room Courtesy

Night Time on HaYarkon Street

Night Time on HaYarkon Street

Beach Skyline View at Night