no
BROWN MACHNE YEHUDA
Market Vibes
New Boutique Hotel in Jerusalm
Brown Mahane Yehuda is the fourth hotel to be born out of the Brown Hotels collection in Jerusalem, a brother to Villa Brown, Villa Brown in the Moshava and Brown JLM, which opened last February. The hotel is located next to the famous and quite legendary, Mahane Yehuda market, which in recent years has become the center of Jerusalem's nightlife, and is now the home to the city's best bars and restaurants.
.
Construction is currently underway near the property. Guests may experience noise between 7 am and 6 pm, Sunday through Friday.
Lobby
Walking into the Brown Machne Yehuda lobby, you're immediately getting true essence of Jerusalem and the market nearby. The right amount of everything to help you chill and nurse that post-party hangover. Along with the legendary Brown Hotels X library, concrete walls, covered with heavy golden velvet curtains carry guests into the hotel's unique ambience. The lobby of Brown Machne Yehuda is the perfect place to kick off the evening before hitting the city's best spots.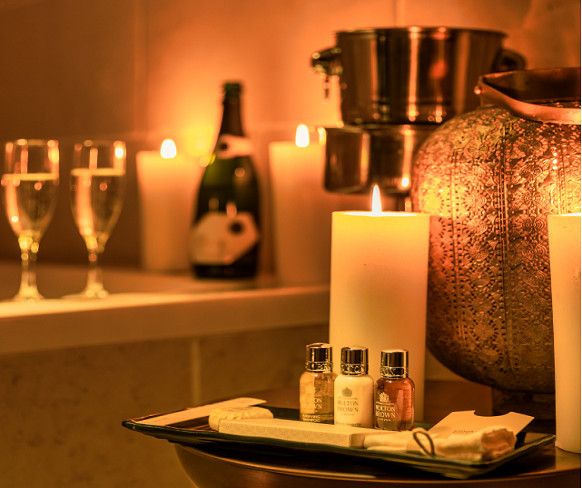 Spa
Our spa staff will be happy to offer you a range of professional treatments in the pampering couples treatment room. Recharge your body and mind with new energies. Accommodation can be booked at the Brown Machne Yehuda Hotel as part of a romantic and pampering accommodation and spa package, by prior arrangement.
Neighborhood
Located right above the colorful and bustling Machne Yehuda market, which in recent years has become a top tourist destination for all culinary and entertainment lovers. As darkness falls, a variety of particularly vibrant neighborhood bars join the celebration. Many other entertainment centers are also within walking distance: Jaffa Pedestrian Street with plenty of shops, Davidka Square and the Historic Cats Square, the enchanting Nahalat Hashiva Pedestrian Street and the nearby Museum of Tolerance, which is expected to open soon and of course, the Old City on its walls.