no
POLI HOUSE
Bauhaus Delight
Boutique Hotel in Tel Aviv
Characterized by a distinctive modern design that is as stunning to the senses as it is welcoming to the soul, THE POLI HOUSE design boutique hotel in Tel Aviv is the embodiment of the urban eccentricities, diversity and personalities that shape the city's eclectic culture and design. 
The whimsical and earnest designs of architect Karim Rashid and South Tel Aviv's unfiltered, street-art lined streets, work in unison with THE POLI HOUSE's panoramic rooftop pool, sun deck, cocktail bar, tranquil spa treatment room and quaint cafe for daily breakfasts housed in a luxurious 1930's Bauhaus edifice to create a next-level hospitality experience unmatched in the White City.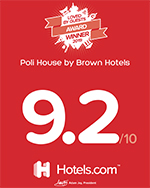 Neighborhood
Located on the crossroads of Tel Aviv's ever-bustling Magen David Square, the meeting point of Allenby, Sheinkin and Nahalat Binyamin Streets, the Poli House Hotel is at the heart of our beloved micro-metropolis on the Mediterranean. Tel Aviv's 24-7 nightlife scene (that's right, bring your sunglasses) and the Poli House are seamlessly intertwined: the hotel's location is based at the core of the city's relentless clubs, cocktail bars, music venues and everything in between the clandestine  lleyways, offering an array of party options always at your fingertips from dusk till dawn.
BUSINESS
The Poli House is the ideal business hotel in Tel Aviv for professional urbanites in search of a combination of comfort, style, practical business amenities and fun after-work facilities. The property features free high-speed Wi-Fi throughout the hotel, printer scanner and fax services, a fully equipped modern boardroom and work desks, laptop-size safes and personal voicemail options in every room. Business travelers will also benefit from a central location and a multilingual concierge staff that is available 24/7. 
Flavors
In a cooperation with our neighbor Jonesy Gardner Café & Bar, The Poli House created a secret breakfast garden where travel meets local and guests can enter at their leisure through a private entrance for a peaceful breakfast of local, organic fare on the dedicated terrace. During the afternoon and evening time, a selection of delicious small dishes ("Crudo bar")  is served at our Rooftop alongside alcoholic and non-alcoholic beverages. Around the hotel and the next door Carmel Market, an endless variety of restaurants, cafes and bars serve almost any type of food imaginable to make your trip a total culinary adventure. 
yes